22 March 2021
Online Exhibition and Sale. Gallery Representation. International Recognition.
I hope everyone has been able to stay healthy and safe during the challenging and unprecedented year.
Personally, I have remained healthy and safe. I continue to be active in submitting my artwork to international competitions and have received positive recognition. To connect with collectors, I have held two art and wine chats.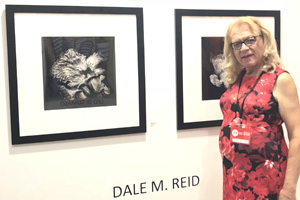 Prior to the pandemic, I had captured several mushroom and floral studies on film. While the negatives were ready for printing, my darkroom facilities has not been available since the beginning of pandemic. As a result, I pivoted to creative advertising and promotion through social media. Here is an example of my creative approach where I featured selected mushroom studies. You can view the presentation by clicking the following link:
LinkedIn - click here
Have you followed me on social media? I encourage you, as I post once or twice a week. For your convenience, here are the links.
In this edition of my newsletter, I am providing details on:
Online exhibition titled Nude Portraits in Nature – Waiting to Blossom into their Spring Attire along with details of opening reception on Zoom
Gallery Representation
Details of International recognition since my last newsletter
As always, I look forward to hearing your feedback questions. Let us make it more personal, we can meet over Zoom.
Cheers,
Dale
Online Exhibition and Sale – Nude Portraits in Nature – Waiting to Blossom into their Spring Attire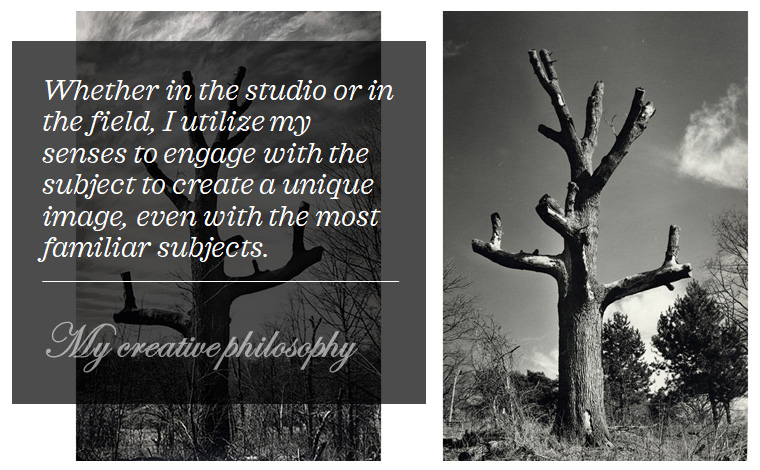 The Importance of Trees
Trees offer a unique subject particularly in the winter when they expose themselves to the world. They are like a 'nude' model presenting their own unique personality. Their 'runway' is all around us whether it is an urban park, in your own backyard, on a street corner or in the forest. We often take the trees for granted and never really look at them. Beside social and communal benefits, they provide environmental benefits by altering the environment in which we live by moderating climate, improving air quality, conserving water, and harboring wildlife. In Toronto, we are fortunate with our extensive tree cover and the city has a program to expand that cover.
The images in this exhibition were conceived from a creative project that form part of a group exhibition titled "Urban Optics" in May 2006 at the Gladstone Hotel. The location of the subjects is Toronto's High Park except for one image.
March 2021
Nude Portraits in Nature Waiting to Bloom into their Spring Attire
Exhibition Details:
Slide Show - click here for *.pdf format
Exhibition Dates - 23 March 2021 to 20 May 2021
Opening Reception on Zoom - 25 March 2021. 7:00-9:00pm EDT. Artist Talk 7:30pm
ZOOM registration - click here
To add to your art collection - click here to access the order form
Join me on Zoom, Thursday, March 25th, 2021 for the Opening Reception. Stay for the two hours or as much time you are available.
If this is the first time to meet, stop by to introduce yourself and I can provide more details on my artwork. Just register at jotform.com.
To order any of the handcrafted silver gelatin prints, I am pleased to offer you a special price of $395.00 Canadian plus taxes with free shipping. I also have a limited number of framed prints that I am pleased to offer you a special price of $495.00 Canadian plus taxes. In this case, to allow for affordable piece of art, I am only offering curbside pick-up to my Toronto friends. If you decide to order an unframed print at $395.00 Canadian, I can offer you archival framing at a price of $200.00. The total price would be $595.00 Canadian plus taxes. Curbside pick-up is available. If the item needs to be shipped, shipping costs would apply. To order either a print or a framed print click here.
Gallery Representation
2020 International Competitions Highlights
I continue to receive international recognition of my artwork. Here is a slide show (*.pdf format) of the recognition since my last newsletter.
Gift Certificates
You are not sure what your family member or friend tastes are in fine art photography, what better way is to send them a gift certificate. Or you may want to send a group gift. Whether it is for a recent grad, a wedding gift, a house warming gift, Christmas gift or any other special occasion, I would be pleased to send a gift certificate packaged with a selection of my beautiful business and show cards.
Just provide me with their name, address, email address and the amount of the gift. I will take care of every else. Please provide your name, address and email address, I will then send you an email with payment instructions through PayPal. There are no taxes on the gift certificates. In addition, I will take the time and care to help your friend or family member to select their piece of artwork.
Online Ordering with PayPal
For those who would like to purchase one or more of my pictures online, a new simplified approach has been implemented to my website. Secure payment through PayPal is still available.
When viewing the image galleries, click on the picture that you are interested in purchasing. At the end of the caption, there is a underlined link 'Contact Dale for pricing and purchasing information'. Just click the link and an email form will open with the title of the picture. Please complete the email with any additional pictures that you would like to purchase and hit send. I will reply with the price, including shipping cost and applicable taxes, purchasing requirements and estimated shipping date.
Once you receive my email, if you would like to proceed with the purchase, just complete the required information and send to me. I will send you an invoice with a link to PayPal. With PayPal, you can still use your credit card for payment or sign-up for your own PayPal account. It is your option; in either case, it is a secure method. PayPal provides easy instructions on how to make your payment. Upon payment of the invoice, I will then ship the picture.
Spread the Word
If you have family or friends that would be interested in my artwork or to get to know me, please forward this e-newsletter to them. Simply click [FORWARD].