Publications
photoEd Magazine, Spring / Summer 2023 – The Food Issue (Print and Digital Issue)
Exhibition Catalogue –19th Julia Margaret Cameron Awards 2023. Published by The Worldwide Photography Gala Awards and FotoNostrum, The Mediterranean House of Photography
2022 Annual Awards Book, Monochrome Awards, International Black & White Photography
photoEd Magazine, Winter 2022 / 2023 – Botanicals, Special Edition (Print and Digital Issue
Exhibition Catalogue - 7th Biennial of Fine Art & Documentary Photography / 3rd Barcelona Foto Biennale 2022. Published by The Worldwide Photography Gala Awards and FotoNostrum, The Mediterranean House of Photography
2020 Monochromatic – Published by Dodho Magazine (Book and Online)
The Art of Mushrooms (2022) – Published by Fundação de Serralves, Edited by Francesca Gavin
Openeye – French Webmagazine (April / May 2022)
Exhibition Catalogue - 6th Biennial of Fine Art & Documentary Photography / Barcelona Foto Biennale 2022. Published by The Worldwide Photography Gala Awards and FotoNostrum, The Mediterranean House of Photography
Art Dealer Street Blog (May 2021)
FotoNostrum Magazine, Issue 4, June 15, 2020. Published by FotoNostrum, The Mediterranean House of Photography (Online and Print)
Exhibition Catalogue - 14th Julia Cameron Award Exhibition & 14th Pollux Awards Exhibition Catalogue 2020. Published by The Worldwide Photography Gala Awards and FotoNostrum, The Mediterranean House of Photography
Dodho Online Magazine 2020 – Still Life Mushrooms
2019 Best of the Best Photographers. Published by One Eyeland
2019 Annual Awards Book, Monochrome International Black & White Photography
2019 Annual Awards Book, Minimalist Photography. 2013 Arte fotografico – Spanish Magazine (Issue 635)
2011 International Dictionary of Artists Vol. 1 Published by World Wide Art Books
Finalist Top 100. 2022 Monochromatic Images
Dodho Magazine
website - click here
A finalist selected among 100 featured photographers presented in the "Monochromatic - Best Photographs of 2022" publication, Oyster Mushroom 6 satisfied the criteria employed by the Jury for technique, impact, composition and style.
Dodho Magazine is committed to discovering and promoting the best photographers around the world. Their print edition is highly respected among galleries and photography agencies all over the world. Many published photographers have experienced a great increase of interest by their work and have received interesting offers of agencies and galleries.
To download the Monochromatic 2022 eBook - click here (*.pdf format). To purchase the Monochromatic 2022 book - click here.
Featured in The Gallery - photoEd Magazine
Botanicals
Oyster Mushroom 6 was featured in photoED Magazine. The publication celebrates diverse Canadian photography in a brand-new light. They have been providing inspiration in print for over 20+ years and are the ONLY independent Canadian print publication on newsstands nationally.
website - click here. To purchase the Winter 2022/2023 Botanicals issue - click here.
The Serralves Foundation - The Art of Mushrooms
Serralves Park. 28 June - 31 December 2022
w - serralves.pt
Curated by Francesca Gavin, the exhibition looks at the representation of fungi and how they have become central to a cultural revolution in philosophy and art. Fungi been at the core of ritual, power and ideas around spirituality and strength for thousands of years. They are a catalyst for human understanding today, and in recent years, the have become the inspiration for new models of contemporary art, politics, technology, economics, and design.

To accompany the exhibition, Serralves published the first contemporary art book devoted to this theme. Francesca Gavin edited the book.
Earlier this year, Francesca invited me to have one of my images published in the contemporary art book. As a sizable portion of my portfolio features mushrooms, I consider it a privilege to share my Oyster Mushroom 52 in this exclusive publication.
Exhibition Script - click here
Exhibition Book - click here
Heart of Analog Art, Short video on my Artist Vision
September 2020
FotoNostrum Magazine – Issue 4 - Online and Print
June 2020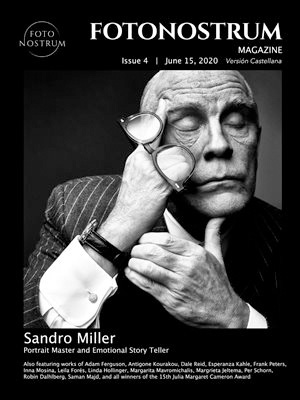 Life is a journey of twists and turns that mold who we are; however, it is not the twists and turns which mold us, but rather, how we take and handle them. My life has comprised experiences ranging from the unexpected to the unconventional. All these experiences have influenced who I am and reflected in my artwork.
Life started on a much different course. Professionally, I am a trained professional accountant and held positions in healthcare, manufacturing /construction, and banking industries. The last twenty-five years, I worked in the Finance and Credit Risk Management divisions at The Bank of Nova Scotia in Canada. In 2004, I was fortunate to take early retirement to become a professional full-time artist. Accounting is an occupation that is far from being creative; however, my experiences provided me with strong analytical and business skills as well as the ability to adapt to various business environments. I have been able to utilize these skills as a professional artist.
To read the full article follow this link.
Dodho Online Magazine
January 2020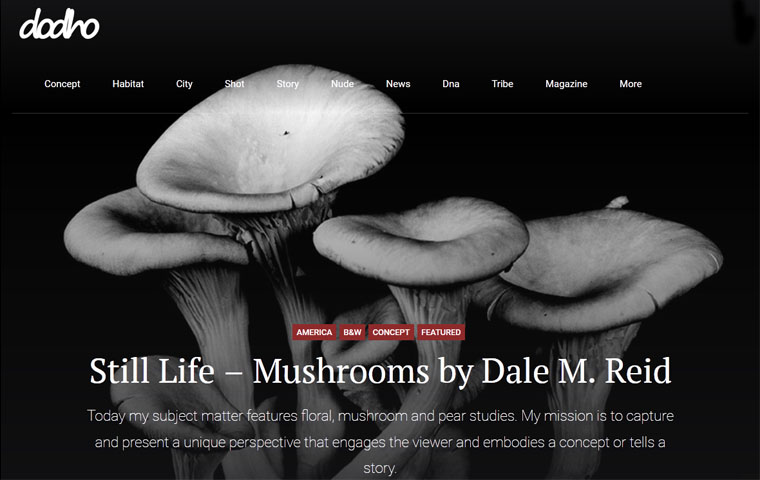 "Photography opened my eyes to the beauty and fragility of the world around me." Click here for article
2019 Award Books
One Eyeland -Best of the Best Photographers
Minimalist Photography Awards
Monochrome Awards – International Black & White Photography Contest