Pride 2023
Diversity – Stronger Together
Pride 2023

Diversity - Stronger Together
Initially, the oyster mushroom captured my imagination and I have since added other wild varieties as subject material. My creative vision uses their bizarre and varied shape, alien textures, and intricate detail combined with composition and lighting to present crisp images with a dose of abstraction. Abstraction makes them unique and opens them to multiple interpretations depending on the viewer's imagination to use their personal memories and life experiences to build content.
These creatures, figurative images, or faces are not beautiful or cute but rough, strange, and weird and can speak metaphorically to people's diversity, uniqueness, and unusual identities that are not often accepted and approached in society. This highlights the fear of the unknown, a fear that is exploited by right-wing extremists.
What do they have to fear?
Instead of promoting hate rhetoric, extremists need to open their minds and take the time to learn about our brothers and sisters. Understanding that we are all human beings first and embrace differences, we can create harmony in the world. We are stronger together!
June in Toronto is Pride Month as well as in many other locations. As a member of the LGBTQ+ community and to support the community, I will be featuring the image "Diversity -- Stronger Together" and the Pride flag on each social media banner and website's hone page. During June, I will also feature the Pride Flag on all my social media posts.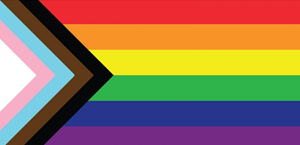 For those individuals and communities that are impacted by right-wing extremism, look to the Pride Flag and be proud of who you are. It is my hope that this presentation will start a conversation and build awareness allowing us to change direction and eventually lead to peace, love, and harmony in the world.