7 May 2021
Art Review + New Gallery Representation & Exhibition + International Recognition + Website Updates

Looking Back On The Pandemic
It looks like the better part of 2021 will continue to be challenging and unprecedented. To meet the challenges required adaption and innovation within every industry. In the art world this resulted in the cancelation of art and design fairs and their transition to a digital platform.
With my original handcrafted silver gelatin prints, I have captured a unique niche segment of the fine art photography market. My biggest pandemic challenge is two-fold:
Ideally my artwork should be viewed in person. To compensate for this, I have been active on social media to discuss my artistic vision and process. Also, I introduced Art & Wine Chats over Zoom and encourage for collectors to personally connect over Zoom.
I have not been able to release new artwork due to the pandemic restrictions and lockdowns. My darkroom facility is at Gallery 44 in downtown Toronto. I hope that this situation will change soon as I have several mushroom and floral studies negatives ready for printing.
In this edition of my newsletter, I am providing details on:
Art review of my art work by Prerna SM Jain, Art Dealer St.
New gallery representation and 2022 exhibition.
2020 & 2021 international recognition since my last newsletter.
Updates to my website.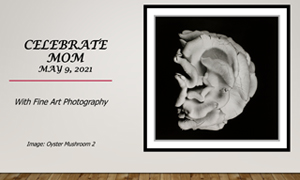 Reminder: Celebrate Mom with Fine Art Photography
I am providing a discount of 20%, offer ends May 9, 2021.

As always, I look forward to hearing your feedback questions. Let us make it more personal, we can meet over Zoom.
Cheers,
Dale
Have you followed me on social media? I encourage you, as I post once or twice a week. For your convenience, here are the links.
Art Review

Art Dealer St. who's motto is "To never lose the compass in the art world" has written a detailed article about my artwork entitled "The 'Colorful' Palette of Monochromatic Images: Dale Reid".
Click here to read the review.
Gallery Representation
I am fortunate to have a positive working relationship with two galleries to promote my artwork:
During April, I added another gallery in Lisbon, Portugal. I signed a consignment agreement with Colorida for representation in Portugal and an exhibition in 2022.
If you remember, I had an exhibition with the gallery in 2019. In discussion with the gallery, they agreed to hold my artwork on consignment. This now has allowed for the opportunity to move my artwork within the European Union.
2020 & 2021 International Competitions Results
To meet the pandemic challenges, I leveraged the participation in international competitions to have my artwork reviewed by a qualified jury (i.e., gallerists, curators, etc.). I have been successful; this opened the opportunity to have my artwork featured on the competition website. Personally, I promote the recognized artwork through my social media.
Since my last newsletter, my handcrafted silver gelatin prints have received three international recognitions:
Updates to Website
Artist Statement
As part of providing a better discussion of my artistic practice and vision, I have been active on social media to providing information for collectors to understand the unique nature of my handcrafted silver gelatin prints. I describe the process as "painting with light" and this is reflected in the revised Artist Statement.
To read click here.
News and Reviews
After a review of the News and Reviews page on my website, I felt that it was important to focus attention to publications. I now titled the page Publications, News and Revews. In addition to provide you with independent publications, I will include self-publications.
To read click here.
Gift Certificates
You are not sure what your family member or friend tastes are in fine art photography, what better way is to send them a gift certificate. Or you may want to send a group gift. Whether it is for a recent grad, a wedding gift, a house warming gift, Christmas gift or any other special occasion, I would be pleased to send a gift certificate packaged with a selection of my beautiful business and show cards.
Just provide me with their name, address, email address and the amount of the gift. I will take care of every else. Please provide your name, address and email address, I will then send you an email with payment instructions through PayPal. There are no taxes on the gift certificates. In addition, I will take the time and care to help your friend or family member to select their piece of artwork.
Online Ordering with PayPal
For those who would like to purchase one or more of my pictures online, a new simplified approach has been implemented to my website. Secure payment through PayPal is still available.
When viewing the image galleries, click on the picture that you are interested in purchasing. At the end of the caption, there is a underlined link 'Contact Dale for pricing and purchasing information'. Just click the link and an email form will open with the title of the picture. Please complete the email with any additional pictures that you would like to purchase and hit send. I will reply with the price, including shipping cost and applicable taxes, purchasing requirements and estimated shipping date.
Once you receive my email, if you would like to proceed with the purchase, just complete the required information and send to me. I will send you an invoice with a link to PayPal. With PayPal, you can still use your credit card for payment or sign-up for your own PayPal account. It is your option; in either case, it is a secure method. PayPal provides easy instructions on how to make your payment. Upon payment of the invoice, I will then ship the picture.
Spread the Word
If you have family or friends that would be interested in my artwork or to get to know me, please forward this e-newsletter to them. Simply click [FORWARD].